EarthDesk 7
Real time data on your desktop.
EarthDesk converts your desktop into a beautiful, real-time image of the Earth from space, continuously
updating in the background while you work. Configure the map, sit back, and enjoy the stunning view!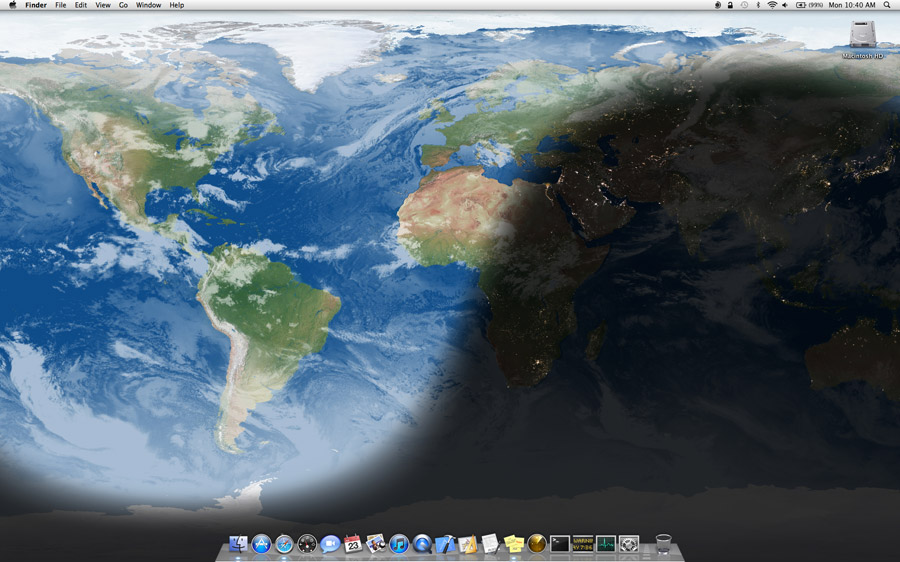 Imagine gazing through the window of an orbiting spaceship. Now imagine that view on your desktop. That's EarthDesk. EarthDesk features near real-time clouds, accurate sun, moon, and city lighting.
EarthDesk is more than just a pretty picture. As it moves throughout the day, depicting live data, it's a great source of information. With so many options at your fingertips, gazing at the Earth from space has never been more fun!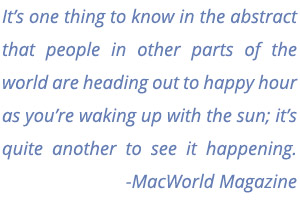 Projections
EarthDesk has 12 projections to choose from including Mercator, Azimuthal, and Equirectangular, and a Globe with an optional starfield background.

Centering
Center on latitude/longitude, a point relative to the sun or moon, or any of 10,000 locations. A data subscription gives you even more centering options.

Map Labels
Multi-color labels can be used to group cities by category and pinpoint them on EarthDesk's maps. Labels are defined per-screen for maximum versatility.

Performance
EarthDesk operates in the background, using minimal resources. Apart from the beautiful picture on your desktop, you won't even notice it is running.

Multiple Screens
One, two, three or more screens can be used simultaneously. Display a different map on each one, or span a single map across all your screens.

Live Cloud Images
Our free cloud image service provides EarthDesk with global cloud images at a detail level of 2 megapixels. Standard cloud images update every six hours.
Expand EarthDesk with a data subscription.
For $9.99 per year, EarthDesk displays high-resolution clouds, earthquakes, storm names, and the International Space Station.

Earthquakes
Watch earthquakes happen all over the world. Choose the minimum magnitude to display, select the number of days they remain, and fade out older quakes.

Named Storms
Track major tropical storms, cyclones, typhoons, and hurricanes. Choose how to label the storm, and whether to display the Safir-Simpson category.
Weather data powered by Aeris.

High-Resolution Clouds
A data subscription provides you with high-resolution cloud images at a detail level of 32 megapixels. High-resolution clouds update every three hours.