Cinematica 2
Video organization reimagined.
Cinematica manages your growing collection of video files perfectly, with a range of options to suit every need.
Use Cinematica to organize, categorize, and customize your videos. It's the application that Apple forgot.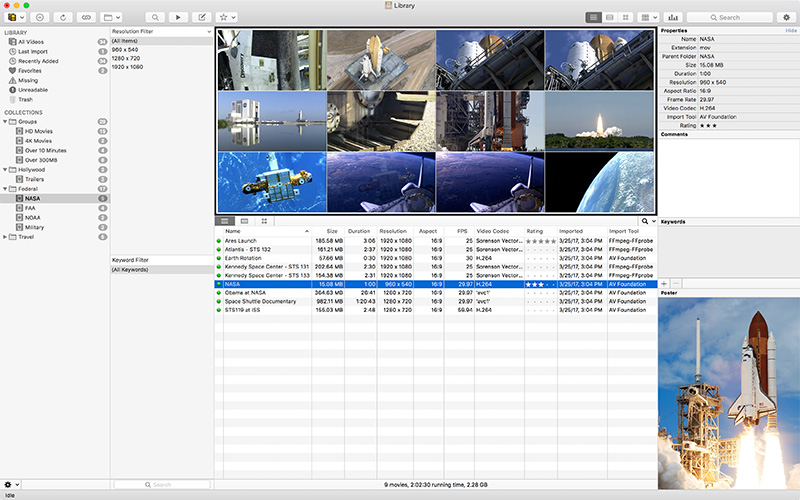 Your music is in iTunes and your photos are in Photos. Now put your videos in Cinematica. Optimize your collection of video files by dragging them into Cinematica, then sit back and watch them organize themselves! With so many options at your fingertips, managing your video collection has never been easier!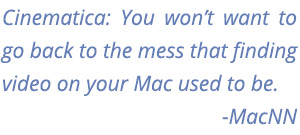 Organize
Cinematica keeps track of properties for each file. Sort and search by any user-defined field or by technical details like resolution, aspect ratio or codec.

Customize
Cinematica lets you add keywords and collection icons. Enjoy unlimited user-defined fields and keywords so that organization is a breeze.

Smart Collections
Cinematica's smart collections catalog your videos into groups, based on multiple criteria. Multiple libraries and storyboards help you find the right file.

Search
Finding your videos is simple with Cinematica. Search on multiple fields and keywords simultaneously. Spend your time working, not searching.

Your Favorites
Cinematica lets you rank videos and sort them into groups in a clean and intuitive way. You'll wonder how you ever lived without it.

Easy Import
Simply drag and drop video files and let Cinematica do the rest. Download the free FFMpeg software to extend the video formats that Cinematica can use.